7 Time Winston Cup Champion!
He was the Greatest NASCAR has ever seen and always will be.
We will forever miss you but will always remember you.

April 1951 - February 2001



"The name of the Lord is a strong tower; the righteous man rushes to it and finds refuge." Proverbs 18:10
(This scripture was taped to the dash of Earnhardt's car by Stevie Waltrip, Darrell Waltrip's wife, prior to the Feb. 18th Daytona 500.)

Florida restricts access to autopsy photos - March 29, 2001
TALLAHASSEE, Fla. -- Standing beside Dale Earnhardt's widow, Gov. Jeb Bush signed a bill Thursday to keep autopsy photos closed to the public unless a judge approves their release. The law sprang from an outcry over the Orlando Sentinel's request to see Earnhardt's autopsy photos. Teresa Earnhardt led the protests, saying she wanted to protect her family's privacy. Full Story
Statement by Teresa Earnhardt - March 29, 2001
I am pleased and grateful for what has happened here in Tallahassee today. I would like to recognize and say thank you to Florida Governor Jeb Bush, Senators Jim King and Bill Posey, Representatives Jeff Miller and Randy Johnson, and most of all, the tens of thousands of people in Florida and elsewhere who spoke out in defense of my family's fundamental right to privacy. Full Story
Statement from Mike Helton,
NASCAR president - March 29, 2001
The following is a statement from Mike Helton, president of NASCAR, regarding Thursday's signing of the Earnhardt Family Protection Act by (Florida) Governor Jeb Bush: "On behalf of the National Association for Stock Car Auto Racing and Teresa Earnhardt,
I would like to acknowledge the efforts of those who led the charge to pass the
Earnhardt Family Protection Act that was signed into law earlier today by
Governor Jeb Bush. Full Story
I hope this is the end of this dispute over the release of the autopsy photo's. We need to send a Thank you note to the legislators who helped get this law passed. Click Here for contact information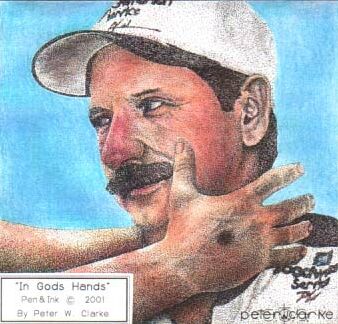 Drawing by Peter Clarke in memory of Dale Earnhardt
posted with permission of the artist.
EARNHARDT
by C.S.
(Sent by my friend, Wes King)
A fine Daytona afternoon, the season just begun.
My boys were running one and two, and I was having fun.
I probably could have won the thing, but something held me back.
I was busy watching Dale and Mike -- and holding off the pack.
I was looking toward the front and not really to the rear.
Something tapped me on my bumper, but still I had no fear.
I thought it might be Sterling - I knew he was nearby.
When Sterling smells the checkered flag,! I'll tell you, he ain't shy.
I slipped a bit. I turned the wheel. I sensed something very odd.
It wasn't Sterling's tap I'd felt. It was the tap of God.
"Not now," I said. "I'm racing hard. There's work still here to do."
"You're time is up," He whispered low, "So say a quick adieu."
I wasn't really ready, but I didn't have a choice.
He'd tapped me on the bumper and I'd heard His hallowed voice.
So ! I did as He instructed. I just packed it in and left.
I guess it can't be helped that I left some of you bereft.
Did you see those birds upon the wall as they scattered in the breeze?
Will it make it any easier to know that was me?
There was also Davey, Dad and Neil and some other guys I've known.
And they all came to Daytona just to escort me on home.
Hey - congratulations, Mikey! You made a worthy run.
I wish you many, many more. You're wins have just begun.
All that fun you had in Victory Lane, I was proud as proud can be.
Did you see a seagull flying low? Yeah, Mikey, that was me.
So, friends and fans and family, don't mourn me for too long.
Get on with life - take care of things - be brave and proud and strong.
I'll surely miss you every one. About that I will not lie.
But as long as you remember me - I didn't really die.

It Hurts So Bad...
Words cannot express the pain that is in my heart over the loss of the Greatest NASCAR Driver ever, Dale Earnhardt. For over twenty years I have followed this man's career attending races and when not attending them watching them on television. Every Sunday I was either in his living room (the race track) or he was in mine by way of the TV broadcast.
Yet all the pain that I feel and most race fans feel cannot compare to that of what Martha, his mother, Teresa, his wife, and Kelly , Kerry, Dale Jr. and Taylor Nicole, his children must feel. They have lost a son, a husband and a father. Read the Rest of the Story
The Decal
I have no idea if there will be an official #3 Memorial Decal as seen on the DEI and RCR cars that will be available to the public.
The Hat
We've received a lot of email inquiring about the 3 hat that was worn
by most of the Winston Cup drivers and teams at Rockingham honoring
Dale Earnhardt. Motorsports Direct is taking orders for the hat.
Allow approximately 90 days for delivery. More information


Dale Jr. Diary: Memories of Dad - March 19, 2001
By Dale Earnhardt Jr.
It's time again for my monthly column. I thought I would share with you a few of my favorite memories I have of my father. Since his death, these are the memories that help me through the hard times. Learning How to Ski; Snow, Trucks, and More Snow; Get Your Head On Straight; Our Final Stance...
Full Story at NASCAR.com
Earnhardt To Be Honored At During Bristol Race Weekend - March 19, 2001
Bristol Motor Speedway, along with tens of thousands of fans, will pay tribute to the late Dale Earnhardt during the upcoming Food City 500/Cheez-lt 250 races at EMS this weekend. Full Story
Earnhardt's Memory Throughout Darlington - March 17, 2001
Dale Earnhardt won more at Talladega and traded more sheet metal at Bristol. Ah, but Darlington, that's where The Intimidator really loved to go racin'. He probably had as much affection for NASCAR's oldest superspeedway as any driver to compete there. Full Story
Judge orders mediation for Earnhardt's widow, Sentinel - March 14, 2001
DAYTONA BEACH, Fla. (AP) - Dale Earnhardt's widow and Orlando Sentinel lawyers were ordered Tuesday to meet to try to resolve their dispute over autopsy photos of the NASCAR great. The judge's order came as a Florida Senate committee unanimously approved a bill that would restrict the public's access to autopsy photos. Full Story on our Help the Earnhardt Family Page
Dale Earnhardt Memorial Week - March 13, 2001
Former NASCAR driver Dale Earnhardt's daughter and sister joined
Gov. Jim Hodges on Tuesday to proclaim this week
Dale Earnhardt Memorial Week. Full Story
It's Reigning Threes - March 12, 2001
Dale Earnhardt, my hero, left us to soon. My heart still aches at the very thought or mention of his name and tears fill my eyes. He is a legend, just a few weeks ago a living legend. Now I would say he's giving God a race of eternity. I can see that sly grin underneath the famous moustache as he looks over at God in the car next to him and gives Him the thumbs up
and it starts reigning threes.
Full Story
Waltrip talks of Daytona - March 3, 2001
All the answers to the questions surrounding Dale Earnhardt's death in a last-lap wreck at the Daytona 500 last month have yet to be answered.
Some may never be answered. Regardless, Michael Waltrip has been comforted each day since with one thought: Full Story
When will we see the No. 3 again? - March 2, 2001
Ty Norris, the director of motorsports at Dale Earnhardt Incorporated (DEI), said it's just a matter of when and how the car will resurface. Full Story
Victory lap was Park's toughest - February 27, 2001
It was one of the most unorthodox, erratic and absolutely gorgeous victory laps in racing history. Steve Park almost wobbled to a wreck halfway through it. He cried all the way through it. He ran out of gas. It was perfect. Full Story
Waltrip's win was overshadowed - February 27, 2001
Lost in all the incredible sadness of the past two weeks is a story of triumph that under any other circumstance would have been one of the best at the Daytona 500. Full Story
Fan Contributions - February 28, 2001
Some of our readers have sent some very good material to us. We thought that they we so good that we would share them with you too. Fan Contributions

| An Open Letter From Teresa Earnhardt To The Fans |
| Dale Earnhardt, Through The Eyes of His Son |
| The Intimidator | Photo Gallery's | Contact Us/Guest Book |