February 19, 2001
It Hurts So Bad ....
Gary Harris, Blk3GM's Dale Earnhardt Site


(Photo from That's Racin')
Words cannot express the pain that is in my heart over the loss of the Greatest NASCAR Driver ever, Dale Earnhardt.

For over twenty years I have followed this man's career attending races and when not attending them watching them on television. Every Sunday I was either in his living room (the race track) or he was in mine by way of the TV broadcast.

Yet all the pain that I feel and most race fans feel cannot compare to that of what Martha, his mother, Teresa, his wife, and Kelly , Kerry, Dale Jr. and Taylor Nicole, his children must feel. They have lost a son, a husband and a father.

The loss of Dale Earnhardt has jolted my life. I had watched the race on Sunday and saw the accident. It concerned me that Dale did not climb out of the car, but was taken by ambulance to the hospital before the Fox broadcast cut away, leaving us with no knowledge of his status. I had seen Dale climb out of demolished cars and walk away. My daughter, my brother and another friend were at Talladega when Earnhardt's car went upside down on top of Bill Elliot's car. We held our breath until he climbed out with relatively minor injuries.

After Sunday's race, my brother, another friend and myself had some errands to run and while sitting in my truck my daughter, Angela, called. Almost hysterical she asked me if I had heard the news that Dale Earnhardt was dead.

Instantly I screamed NO! NO! NO! and handed the phone to my brother. We tried to assure Angela and ourselves that this wasn't possible, that some over anxious media person just speculated this and that Dale was just at the hospital being checked out. We proceed to return home, me in my truck and my brother and friend behind me in another truck.

However, just a few minutes later the news came over the radio. I stopped my vehicle in the middle of the road and attempted to walk back to the vehicle my brother was in. My body wouldn't move. I fell down in the middle of the road, grief stricken. My brother heard the news at the same time I did. He helped me back in the truck and we made it back to the house only a few blocks away.

Since Sunday evening I have been numb, sick and hardly able to think of anything else.

I have begged and pleaded with God to understand why this has happened to such a great man. A man who openly stated that the three most important things in his life were "God, my family and that black number 3 GM Goodwrench car". Why was he taken from us.
He had his priorities right and in the right order.
Maybe that is why he was so successful.

I still don't have the answer that I want to hear. I am still waiting for this bad dream to be over, but it will never be what I want it to be.

God has his own reasons and maybe God had nothing at all to do with this. But I know that he is in the presence of the Almighty even as we still grieve. For if you believe in God and the saving grace brought to us by His Son, Jesus Christ, then to be absent from the body is to be present with the Lord. I believe this for my own life and I believe Dale Earnhardt believed this.

He didn't flaunt it in front of a microphone. He just lived it every day.

What this great tragedy has done to me though is to realize that none of us have a guaranty that tomorrow will ever come. All we have is the moment we live right now. It has made me tell my daughter over and over how much I love her. It made me hug my two niece's, my brother and his wife and tell them I love them. It has made me aware that our lives are so interwoven in the grand scheme of life that we must live our life to the fullest but treat each day as if it were our last and love those around us.

Life is fragile.
Dale Earnhardt, as tragic as it is, died at work. Any of us could die at work, on the way to or from work, or while we sleep tonight.

Hug your children, your wife, your parents. Tell those close to you that you love them. You never know when it will be your last time to do so.

I watched TV as pre-race activities took place on Sunday and I watched Dale hug Teresa and Taylor Nicole. I saw him hug both Dale Jr. and Teresa at the same time while whispering something in Dale Jr.'s ear. I watched as the last thing he did before he climbed into that black number 3 was to kiss and hug his wife. Did Dale have a premonition that this was his last race?
I don't know.
Whether he did or not makes no difference at this point in time. What does matter is that he lived for and loved God and his family.

Over the twenty plus years that I have watched this hard charging, strong willed, determined man I have seen a simple man reach for goals and achieve them. Stretching above and beyond what would seem humanly possible and getting there. Yet keeping his perspective on what is really important in life.
His priorities ... God, his family, his work.

If we keep those priorities in order every thing else will fall in place.

I will never forget this man who has left an indelible impression on my life and so many others.

God has blessed you, Dale Earnhardt and now you can see your not just your Heavenly Father, but also your father that was taken from you so early in your own life.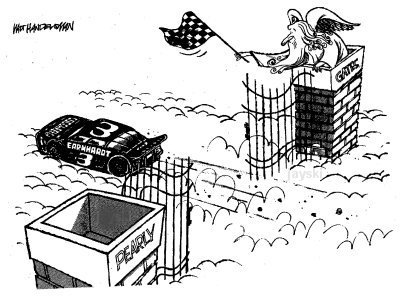 (Photo from the Philadelphia Inquirer)

I can almost see Dale standing tall as others around him listen just like
today's drivers did every race weekend.
Ralph Earnhardt, Neil Bonnett, Davey Allison, Alan Kulwicki, Adam Petty, Kenny Irwin, Tony Roper, Tim Richmond, Elmo Langley and all of the other great racers that arrived in heaven before him.

Rest assured, God has Dale Earnhardt in His hands now and heaven is enjoying what we have had for the last twenty-five years.

God help Martha, Teresa, Kelly, Kerry, Dale Jr., Taylor Nicole most of all deal with the grief and pain that they feel.
And please God, help all of those who feel the loss as I do.

Teresa Earnhardt, Dale Earnhardt and Taylor Nicole

| An Open Letter From Teresa Earnhardt To The Fans |
| Dale Earnhardt, Through The Eyes of His Son |
| Home | The Intimidator | Earnhardt Family | Contact Us/Guest Book |