The following are some contributions sent by Earnhardt Fans.
We thought they should be shared with you.



From Kannapolis To Daytona
(This is a poem I wrote just a few days after Dale was killed. I would like
to get it published and I think that it would also make a good song).
James A. Park

From Kannapolis to Daytona,
And every race track in between.
Ol' Dale drove them hard,
And Ol' Dale drove them mean.
They say he was a natural born driver,
To the sport of racing he was true.
The man lived, loved and died,
Doing what he wanted to do.

From Kannapolis to Daytona,
The son of a racing man.
He earned the title of a legend,
The man in black always in demand.
Behind that suit of armor,
He wore on Sunday afternoon.
Beat a heart more precious than gold,
And to God he was always true.

From Kannapolis to Daytona,
The trademark of this man.
Was bumping and trading paint,
Loved and feared throughout the land.
With Ol' Dale tucked in behind,
You had better not make a slip.
Or he would come roaring by,
Like a jet on a cross country trip.

From Kannapolis to Daytona,
That boy was born to race.
Loving father, husband and friend,
An example of God's love and grace.
Though he is gone and we remain,
Our race not fully run,
He took the checkered through the pearly gates,
To our heavenly home beyond the sun.

Was it a '3' in the sky?
From WBTV News 3
Many people thought they saw something a little unusual over the Earnhardt race headquarters in Mooresville. Take a close look at the area that's highlighted in this picture. Does that whisp of cloud look like a number three to you? That's what a lot of folks thought when they saw this Tuesday morning, including our photographer, Bobby Hager. Of course, Dale Earnhardt drove the #3 Chevy.

(This originally appeared at Charlotte.com) Thanks Beth!

EARNHARDT
by C.S.
(Sent by my friend, Wes King)
A fine Daytona afternoon, the season just begun.
My boys were running one and two, and I was having fun.
I probably could have won the thing, but something held me back.
I was busy watching Dale and Mike -- and holding off the pack.
I was looking toward the front and not really to the rear.
Something tapped me on my bumper, but still I had no fear.
I thought it might be Sterling - I knew he was nearby.
When Sterling smells the checkered flag,! I'll tell you, he ain't shy.
I slipped a bit. I turned the wheel. I sensed something very odd.
It wasn't Sterling's tap I'd felt. It was the tap of God.
"Not now," I said. "I'm racing hard. There's work still here to do."
"You're time is up," He whispered low, "So say a quick adieu."
I wasn't really ready, but I didn't have a choice.
He'd tapped me on the bumper and I'd heard His hallowed voice.
So ! I did as He instructed. I just packed it in and left.
I guess it can't be helped that I left some of you bereft.
Did you see those birds upon the wall as they scattered in the breeze?
Will it make it any easier to know that was me?
There was also Davey, Dad and Neil and some other guys I've known.
And they all came to Daytona just to escort me on home.
Hey - congratulations, Mikey! You made a worthy run.
I wish you many, many more. You're wins have just begun.
All that fun you had in Victory Lane, I was proud as proud can be.
Did you see a seagull flying low? Yeah, Mikey, that was me.
So, friends and fans and family, don't mourn me for too long.
Get on with life - take care of things - be brave and proud and strong.
I'll surely miss you every one. About that I will not lie.
But as long as you remember me - I didn't really die.

THE MAN IN BLACK

The Heaven 500, was just getting started,
an All-Star race, for the racing departed.
Heroes of the track, with nerves like steel,
and sitting on the pole, was a cat named Neil.

Adam Petty was there, with his beautiful smile,
Kenny Irwin determined, to finish in style.
Lee Petty was glowing, with that Grandfather pride,
with Davey & Clifford, both in a new ride.

Fireball Roberts, floated in on a cloud,
while Tony Roper waved, to the Heavenly crowd.
Morrosso & Nemecheck, then Tim Richmond appeared,
Kulwicki strapped in, while the racing fans cheered.

The honorary starter, for this Heavenly race,
Ralph Earnhardt was chosen, a tear on his face.
But the red flag flew, just before it had begun,
and every eye, was open wide, and looking to the SON.

A last minute entry, was the cause of delay,
while the fans were instructed, to kneel and to pray.
The Heavens turned black, and the clouds turned dark,
the lightning was brilliant, the thunder did bark.

Then out of the rumble, for all there to see,
the clouds formed a number, a black number three.
The Heavenly fans, then erupted with pride,
and welcomed this star, who had recently died.

With a bolt of lightning, Dale Earnhardt arrived,
as he stood before Jesus, his spirit revived.
Jesus hugged his precious child, then revealed his perfect plan,
"I brought you home, to let you know, that
I'm your biggest fan!"

"The Intimidator was needed, for this Heavenly race,
leaving all of your earthly fans, with honor & with grace."
Ralph Earnhardt then stepped forward, embracing his son,
then whispered in the ear of Dale, "Let's go and have some fun!"

As Ralph stood proud, the green flag
the crowd went wild and the tension grew.
And just like Salvation, the admission was free,
as every eye focused, on the black number three.

When the checkered flag dropped, no dry eyes remained,
it was a photo finish, as Jesus explained.
He said, "There are no losers, on this Heavenly track,
this was a welcome home party, for The Man In Black!"

Written for Teresa, Dale Jr, Kerry, Kelley King, Taylor Nicole
and the millions of dedicated Dale Earnhardt fans.

Written by...Timothy Jon Barrett
February 21,2001
https://www.angelfire.com/tn/sharingmygift/dale.html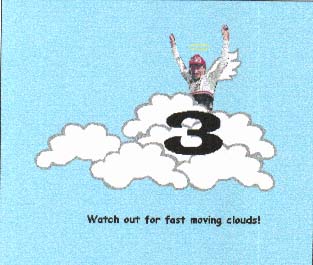 Sent by Sandi Frunzi

ONE QUARTER MILE FROM HEAVEN
(AUTHOR UNKNOWN)
Like a guardian angel from four cars back,
Watching Michael & Dale, Jr. as they circled the track.
No intention of winning, just holding his place,
So proud of his "boys" now winning the race.
We though it was over, the end was so near.
No time for pain; no time for fear.
We did not know, as there was no sign,
Dale was only one-quarter mile from his final finish line.
Within an instant, NASCAR fans would be facing,
An eternal change in their world of racing.
He was one of the greatest; beloved in his sport,
With a grand career now sadly cut short.
All the crowd noticed was excitement and debris,
But a miracle was happening we could not see.
Dale said good-bye through shining metal and chrome,
As God gave "NUMBER 3" the checkered flag "home."
But forever in our hearts, and in the scheme of things,
We'll picture him circling heaven with black and red wings.
Grinning; telling angels..and even the Creator,
"Look out over there...here comes the "INTIMIDATOR."


| An Open Letter From Teresa Earnhardt To The Fans |
| Dale Earnhardt, Through The Eyes of His Son |
| The Intimidator | Earnhardt Family | Contact Us/Guest Book |
| Home |