The Earnhardt's, a Family that Races
"The most important things in my life are
God, my Family and that Black #3 Goodwrench car, in that order"
Dale Earnhardt - 1998

Perhaps even more important to Dale Jr. than winning races is winning the respect of his father
The Earnhardt's: A NASCAR Family (USA Weekend)
Those who know him say a warmhearted man lies underneath the elder Earnhardt's crust. After talking with him awhile, it's easy to believe this. "I do care what people think about me," he says softly. "It goes back to what advice my dad gave me and how he was raised and tried to raise me: When you leave here, all you're gonna have is your name and your word. If that's not any good, then you're not much good. ... I want to be remembered as much for that as for being a great racer -- being a good father, for one, but also a fair person in life, fair to other people." Which is not to say his fervor for racing is any less strong today than ever. It isn't.
"My dad is the reason I am in this sport and he's someone I have always looked up to, not only as my dad but as a great race car driver," - Earnhardt Jr.
"I suppose growing up with the Earnhardt name, I could have been a spoiled brat, but I wasn't, I don't think my dad would have put up with that anyway. You start at Dale Earnhardt Inc. by sweeping floors and shoveling out the horse barn. I was no exception." - Earnhardt Jr.


Coca-Cola Classic is delivering the hottest father and son duo in NASCAR to racing fans. Dale Earnhardt and Dale Earnhardt Jr. will race head-to-head for the first time at the Coca-Cola 500 in Motegi, Japan on Nov. 22. To mark this historic event, both Earnhardts will drive special Coca-Cola race cars. (Story-Nascar Online)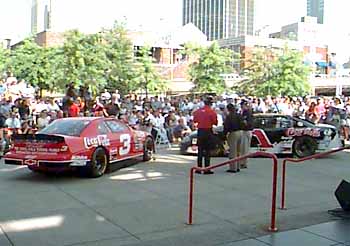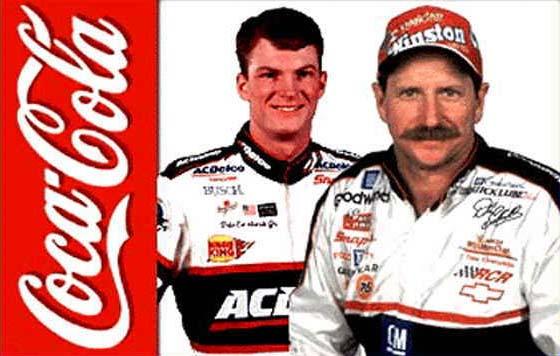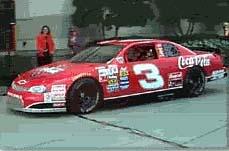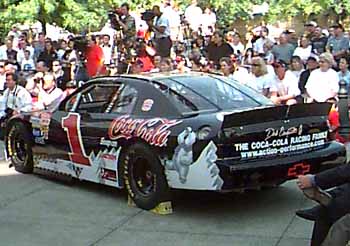 Dale Earnhardt Sr. will drive the #3 Coca Cola Classic car
Dale Earnhardt Jr. will drive the #1 Coca Cola Polar Bear car

The name EARNHARDT will be around for a while!
Dale Earnhardt
and (from left) Dale Jr, Kelly and Kerry
are the next generation of this great racing family.
NASCAR Family: The Earnhardt's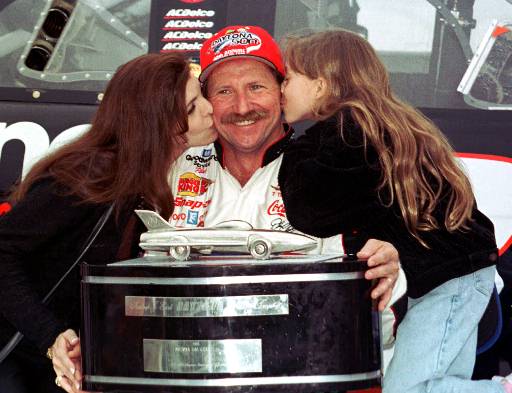 Teresa, Dale and Taylor Nicole

Dale Jr. Wins the Coca Cola 300
Dale Earnhardt choked up again Saturday. (SpeedWorld)

Dale Sr congratulates Dale Jr

The stone-faced Intimidator, who became emotional in February when he finally won the Daytona 500, turned soft-hearted this time when his son Dale Earnhardt Jr. won the Busch Grand National Coca-Cola 300 for his first NASCAR victory.

"Daddy, I love you to death,'' excited Dale Jr. said on the two-way radio shortly after taking the checkered flag at the Texas Motor Speedway.

Dale Jr.'s victory was a family classic. He gave up the lead to make a pit stop with 15 laps left to take four new tires, returned in third place, then nuzzled up behind leader Joe Nemechek and scared him out of the way with one lap to go.

"It was awesome,'' said the proud father and car owner. "I can't believe it.''
It made the Earnhardt family a three-generation winner on the circuit and it proved that 23-year-old Dale Jr. can carry on the tradition begun by grandfather Ralph Earnhardt and continued by his father.
"I don't really think about that (carrying on the family racing name)," Earnhardt Jr. said. "I'm just so proud of my family and real proud to be involved with my father in racing and be a driver for him. It's a good relationship we have. Winning with this team in front of my father ... It's important to me. I'm proud of my father and grandfather and what they've done. I'm just glad I'm able to be successful at it, too."
(NASCAR OnLine)
"That was about like watching Dale win the Daytona 500. I was up in the middle of the floor, walking back and forth, crying. I was a nervous wreck. I thought it was his father himself in that car driving. He's just amazing. It takes a special kid to do that.'' - Martha Earnhardt, Dale Jr's Grandmother, who was watching the Texas race on television from the living room of her home in Kannapolis.

Martha Earnhardt: A royal matriarch of racing
(From an article by DAVID POOLE The Charlotte Observer 9-27-98)
She threatened to leave her husband over it, attempted to talk her son into picking another career and then tried to put the brakes on her grandson's rise through the ranks.
It's fair to say Martha Earnhardt was slow to embrace auto racing as her family's business. That doesn't mean, however, she's not proud of what the men in her life have accomplished on the track.
Martha Earnhardt was the late Ralph Earnhardt's wife. She's Dale Earnhardt's mother and Dale Earnhardt Jr.'s grandmother. That's three generations of celebrating victories and sharing disappointments, not to mention decades of watching cars disappear into clouds of smoke hoping her flesh and blood came out on the other side.
"I think it gets worse instead of better,'' she said. "When you get older, your nerves are not quite as strong. When Ralph started I was only like 19 years old and I really didn't have sense enough to worry.
"When Dale got in a race car, that was just all together different from Ralph. I grew up with Ralph racing and I knew he knew what he was doing. When Dale got in it, that was part of me getting in that car and it was just a different story.''
Racing has been the Earnhardt family's way to make a living ever since Ralph decided that's what he wanted to do -- over his wife's objections.
"When he first told me he wanted to race, I thought, 'Well, he's lost his mind,' '' Martha Earnhardt said. "I threatened to leave and he just kept talking. So I decided if I couldn't beat him I guess I would have to join him. I didn't want to leave him, really."
"He promised me when he started if he couldn't make a living for the family without taking away from the family he would quit, that he wouldn't do it. He always kept me and the five kids up without me having to work. I couldn't say too much.''
She also tried to talk Dale out of racing, and while she was baby-sitting Dale Jr. and watching him line up toy cars on his little race track, she tried to steer him out from behind the wheel, too. When Dale told her of his plans to put Dale Jr. in the family-owned Grand National car this season(1998), she advised against that, too.
"I guess, evidently, I was wrong, but at the time I really didn't think he was ready,'' she said of her grandson's meteoric rise this year. '' I just thought he needed a lot more experience in the smaller divisions. But he has proved me wrong.''
Dale Jr. is leading the Grand National points race and has six wins this season. He recently signed a lucrative six-year deal with Budweiser that provides him strong backing for his move to full-time Winston Cup competition, which is planned for the year 2000.
Before the days of private jets and $750,000 motor homes in which families could stay at the track, Martha Earnhardt mostly stayed in Kannapolis -- in the house she still lives in -- watching five kids. Ralph hauled his cars up and down the Eastern seaboard, racing four or five nights a week.
"One time Ralph had went to Daytona one year and I didn't get to go,'' Martha recalled. "I was home with the kids and the boys, Dale and Randy and Danny, were just trying my nerves to see how bad they could really upset me. I just grabbed a belt and starting swinging, I didn't care who I was going to hit. Dale hollered at Randy and Danny and said, 'Boys, y'all run. Mom's gone crazy!' ''
Martha stayed home from Daytona again this February when her son finally won the sport's biggest race.
"I was home watching, and I was cheering and crying at home just like I would if I had been there,'' she said. "Dale called me from winner's circle and that made me feel real good. He said, 'Mom! I finally won the Daytona 500!' I said, 'Yeah, son, I saw you did!'
"For the last 10 laps I walked the floor. I would sit down, I'd get up, I'd sit down. ... I couldn't stay sitting down until I knew he had won it. It was just a really great feeling because I knew how hard and how long he has tried to win and how close he has came.''
She's proud of her son, the seven-time Winston Cup champion, but admits it's sometimes a little different to grasp how wide his celebrity has grown.
"I am proud Dale has got to do what he has always wanted to do, and has really done well at it,'' Martha said. "He has been able to come as far and accomplish what he has, and I am just proud of him as a person, the person he has become.
"It's really amazing when you go in the grocery store and there's your kid's picture on a cereal box or a Sun-drop bottle, or you see him on a billboard on the side of the road. It's really hard to realize that's really your child.''
She's proud to see her grandson's star rising, but worries a little bit that the sun might be starting to set on her son.
"I want Dale to do what makes him happy,'' Martha said. "I just think it is going to be really, really hard for him to get out of that race car. As long as he can be competitive, I think he will continue to drive."
"I don't want to see him struggle like he has been here lately. I want to seem him win races again.''
Even if it does still make her nervous.

Ralph Earnhardt
Born: February 23, 1928
Died: September 26, 1973
Hometown: Kannapolis, N.C.

We now have three Generations of Legendary Earnhardt Drivers
and it all began with this man.

He no longer thunders through turn four with dust swirling, nor speeds down the front straightaway passing everyone to take the checkered flag, but those who knew Ralph Earnhardt can see him still.
He was the epitome of a race car driver.
Ralph Lee Earnhardt was born February 23, 1928, in Kannapolis North Carolina. It was from there, in a garage behind his home that he began his life's work - building race cars for himself and others. But more importantly, he drove these cars to hundreds of wins and countless State and track championships. He won the NASCAR Sportsman Championship in 1956, finished in the top ten of the NASCAR National Sportsman point standings six years and finished 17th in the NASCAR Grand National (now Winston Cup) point standings in 1961.
Ralph Earnhardt "Mr. Consistency," preferred to race four to five times per week near his home rather than endure the hassle of traveling far from home, wife and children. He did, however, drive over 50 races in the Grand National (now Winston Cup) circuit for such renowned car builders as Cotton Owens and Lee Petty.
He was an innovator. He utilized tire stagger when no one else even knew what it was, built "bite" into his race cars and installed crash bars in the driver door for driver protection, undoubtedly saving many lives. Ralph never had to work on his car at a race track. He would just change tires, go out, and beat everyone. According to Ned Jarrett, "Ralph Earnhardt was absolutely the toughest race driver I ever raced against. On the dirt and asphalt short tracks in Sportsman competition, when you went to the track you knew he was the man to beat."
Ralph Earnhardt, the quintessential race driver whose career spanned 23 years of competition in NASCAR Modified, Sportsman and Grand National series, won more than 350 NASCAR races and never looked back.
Ralph Earnhardt passed away, from a heart attack, on September 26, 1973, at the age of 45.
In 1989, Ralph Earnhardt was inducted in the National Motorsports Press Association's
Hall of Fame at Darlington (S.C.) Raceway.
He was inducted into the
International Motorsports Hall of Fame in Talladega Ala., in 1997.
This year along with 49 other drivers including his son, Dale,
Ralph Earnhardt was named as one of NASCAR's "50 Greatest Drivers".
Dale Earnhardt, on racin' with his Dad.
(From Dale's interview with the National Press Club)
"I didn't really get the opportunity to race against my dad but one or two times in my career, and most of it was in practice and stuff. But, the one time I did race with him, was at a dirt track, and I was racing the six-cylinder division, and the were sort in the Sportsman's Race that night. So, the -- the promoter at the track said "okay, the top five in the -- the six-cylinder division tonight can line up in the Sportsmen tonight, and run the Sportsman Race after the six-cylinder race.''
So, we did. I lined up second -- I ran second in my race, so I lined up second. And I was racing the same guy that I had raced, trying to win, all night long. And here comes my dad, leading the race, and he comes up behind us, and he just falls in racing with us, you know? And I was watching, trying to get out of his way, and he kept getting in behind me, and I couldn't figure out what he was doing. Finally, he started bumping me around, so I finally, I said I better hold this thing straight down the straightaway anyway.
So I got it straight down the straightaway, and he pushed me by this guy. (Laughter.) And I beat the guy, and then Daddy drove on past me. (Laughter.) The guy protested that the race was fixed, 'cause Daddy helped me pass him. And I ran third in Sportsman's Race that night, as a matter of fact, so he felt like it was rigged. So, I got one exciting time racing with my daddy, and it was pretty neat to do that."
"I would have liked to have done more of it."
"I would give it all back if I could have my Dad back"
- Dale Earnhardt -

| Home | The Intimidator |
| Contact Us/Guest Book |