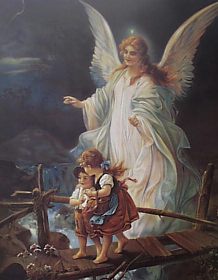 My Prayer for Angela, my daughter.....
Dear God,
There are no words for the depth of my love for this child.
I pray for her care and protection.
I surrender her into Your hands.
Please, dear God, send Your angels to bless and surround her always.
May she be protected from the darkness of our times.
May she always see You at the center of her life.
May her heart grow strong, To love You and serve You.

On December 8, 1998, my daughter, Angela, left home to pursue a life of uncertainty.
The details of why she left and who she left with are between her, her family and God.
Angela is just five months away from graduating High School with nearly a 4.0 GPA and has wonderful scholarship opportunities. She was a member of the National Honor Society and the Beta Club. She was in the top 10 percent of her senoir class.
In recent months she has quit every thing that has been important to her since childhood. She has quit dance, school, work and turned her back on her family and has for the moment shunned the love of those closest to her.
Her family loves her more than she is able to comprehend at this moment and our prayer is that God and His Angels will watch over her.
| | | |
| --- | --- | --- |
| | | |
| | This was to be Angela 1999 Senior Picture | |
| | | |
Angela, I am asking God to place His angels around you, to protect you and to surround you with His love.
Psalms 91 (slightly revised)
She who dwells in the shelter of the Most High will rest in the shadow of the Almighty.
I will say of the Lord,
"He is Angela's refuge and Angela's fortress,
Angela's God, in whom Angela must trust."
Surely he will save you from the fowler's snare and from the deadly pestilence.
He will cover you with his feathers and under his wings you will find refuge;
His faithfulness will be your shield and rampart.
Angela, you will not fear the terror of night, nor the arrow that flies by day, nor the pestilence that stalks in the darkness, nor the plague that destroys at midday.
A thousand my fall at your side, ten thousand at your right hand, but it will not come near you.
Angela, You will only observe with your eyes and see the punishment of the wicked.
If you make the Most High your dwelling.....even the Lord, who is my refuge.....
then no harm will befall you, no disaster will come near your tent.
For He will command His angels concerning you
to guard you in all your ways;
they will lift you up in their hands so that you will not strike your foot against a stone.
You will tread upon the lion and the cobra;
you will trample the great lion and the serpent.
"Because she loves me," says the Lord,
"I will rescue her, for she acknowledges my name.
She will call upon me, and I will answer her;
I will be with Angela in trouble,
I will deliver her and honor her.
With long life will I satisfy her and show her my salvation."
Angela, God loves you and I love you....Always, no matter what!
When you are ready, you are welcome to come home.
I will be waiting with open arms.
With All My Love,
Dad
and your Mom, Caitlin, Scotty, Steve, Uncle David, Aunt Pam, Chrystina, Jessica, Uncle Mike, Blake and Aunt Brenda, Grandma and Grandpa Harris, Aunt Cathy and Jarred, Grandma DePreste, Meego and Ms. Hazel.
Click here to see some photo's of Angela
Update: June 3, 1999
On May 15th Angela came home to visit. She expressed a desire to try to get her life back on track. We made arrangements for her to move near her mother and re-do her senior year of high school. On May 29th she flew to her mothers and is currently with her. There are still some hurdles to overcome but she is attempting to get her life back in order.
Thank you, all of you, who have been praying for Angela. We appreciate your continued prayers for her.
Anyone who visits this page, please say a prayer for Angela Marie.

| Home | Winston Cup News | Busch Series News | Truck Series News | News Archives |
| Statistics | Race Schedules | Photo Gallerys | The Intimidator | Race Links | Awards |
| Web Rings | Book Store | Site Navigation | Contact Us/Guest Book |