Your site has been awarded the Racing Press Editors' Choice Award! Congratulations on your outstanding site and the effort you have put into making it one of the Web's premier racing sites.
Sincerely,
MotorSportsNews Editorial Board
June 4, 1999




Our Site has been chosen as the winner of the January 1999 NASCAR AllStar Web Ring Site of the Month
The winner of January 1999's NASCAR Allstars WEB Ring's "Site of the Month Award" is Gary Harris' "Blk3GM's Dale Earnhardt Site". Gary's site is one of the more extensive Dale Earnhardt Sites on the net. The site features news, stats and photos of Dale Earnhardt, Dale Earnhardt JR and Dale Earnhardt Enterprises. Gary's site also includes an extensive news and rumor section. Please stop by and visit Gary's site at http://members.tripod.com/~Blk3GM/ Congratulations Gary, for winning January 1999's Site of the Month Award. Steve Hirsch
Thank you, Steve Hirsch and the NASCAR AllStar Web Ring!
Our Award from Ravi
Congratulations! Your Web site has been selected to win an Elite
Site Award. This award signifies that your site contains quality
content and has skillful design. It is to signify that your site has been judged to contain quality content, design and HTML expertise. By displaying the award on
your site, you are notifying your visitors that your site is among
the best of the Web. For only the best have a chance to win such a
prestigious award.

Our Award from Memphis Jan
I think you've got a GREAT homepage and I'm giving you the MemphisJan's You Rock Me! Award!! Your graphics are great and your content is very interesting.You've put a lot of time and effort into your site and it shows! Thanks for inviting me to visit and keep up the good work. Congratulations again and...Keep on Rockin'

MemphisJan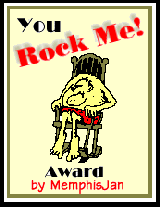 Our first award!
Thanks Harold and Sharon Muldoon