Just a little about us...
My name is Gary Harris. I am 42 years young and am self employed in the Export Business. Winston Cup Racing is a passion for me. I have been following Dale Earnhardt's career for about 20 years. It is the only major sport that I follow year round, although living not to far from Atlanta I do support the Braves! This web site has become a hobby and tribute to Dale Earnhardt, his son, Dale Jr., and DEI Race Teams. I love the water and power boating is another great passion for me. My dream is to one day retire and live on my boat somewhere on the coast of Florida.
The pride and joy of my life is my 19 year old daughter, Angela Marie Harris. She is desperately trying to decide where to go to college and what to do with the rest of her life! I am really proud of her as she had been a honor roll student, a member of the National Honor Society and the Beta Club. She is a dancer and likes to compete. Her favorite is modern dance and jazz but also does ballet, lyrical and tap. In 1995 she participated with her High School Drill Team in the Rose Bowl Parade in Pasadena, California. Also, in 1996 her dance team was selected to participate in the pre-Olympic Activities in Atlanta. She is also a die hard Dale Earnhardt fan and really can't stand Jeff Gordon.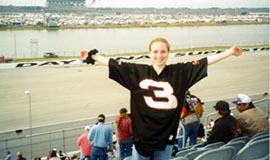 Angela at Daytona before race time Feb. 15, 1998 Angela and me at Talladega, April 26, 1998
In 1998 we attended the NAPA Auto Parts 300 Busch Race in Daytona and the Daytona 500 February 14th & 15th. We also attended the DieHard 500 in Talladega, April 26th, and the Food City 250 Busch Race and the Goody's 500 in Bristol on August 21st & 22nd. Check out our Bristol Photo Gallery by clicking on the link at the bottom of the page. In October we attended the Winston 500 in Talladega and then the final race of the season, November 9th in Atlanta.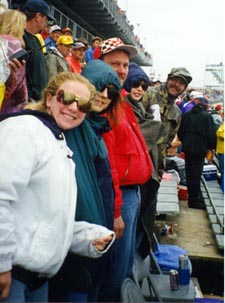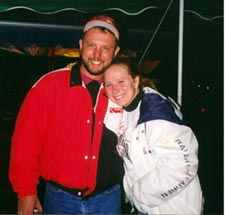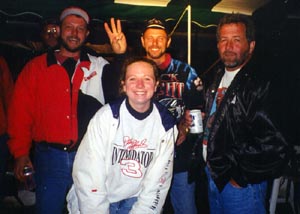 These are from Talladega in April 1997. We camped there for 4 days waiting to see the race, but the race was rained out and we had to come back a few weeks later. We froze our butts off!
Top left(left to right): Angela, my Sister-in-Law, Pam, my brother David, Sister-in-Law, Brenda, my brother Mike
Top right: Angela & Uncle David
Bottom(left to right): David, Angela, Me and a friend we met (sorry can't remember his name)
The song playing in the background is "Butterfly Kisses" by Bob Carlisle
and is one of my favorites when I think about my daughter.
Just a little more about the pride of my life


| Home | The Intimidator |
| Contact Us/Guest Book |