Dale Earnhardt Jr & Budweiser
Already the hottest new driver in stock car racing, Dale Earnhardt Jr. hit the jackpot yesterday with what his team called the biggest sponsorship deal in Winston Cup history.
Budweiser, the "Official Beer of NASCAR," Monday announced it has signed Dale Earnhardt Jr. to drive for the brand on the NASCAR Winston Cup Series through 2004. Earnhardt Jr., the current NASCAR Busch Series Grand National Division point leader, will drive a Budweiser-sponsored car in five select races on NASCAR's premier circuit in 1999 while racing a full NASCAR Busch Series schedule.
Earnhardt and Anheuser-Busch Inc. announced an agreement for Earnhardt to carry the Budweiser colors on his Winston Cup cars beginning next year and lasting through the 2004 season. According to several sources in the sport, the total value of the package makes it worth more than $10 million a year.
''I can't confirm that, but I won't deny it,'' said a smiling Don Hawk, president of Dale Earnhardt Inc. and the man who negotiated the deal. ''It's stout, I can tell you that. I think they refer to race cars as stout, and this is stout.''(Journal Now)(9-22-98)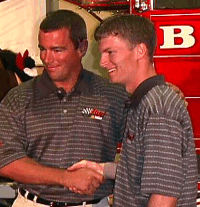 Click on the Picture to hear the
Earnhardt/Budweiser Press conference
Two renowned names in motorsports -- Earnhardt and Budweiser -- are teaming up, and the match promises to be a formidable presence at race tracks around the country into the next century. Dale Jr will drive a Winston Cup car in a limited 5 race schedule for the 1999 season and go full time to Winston Cup in the year 2000 with Budweiser as his sponsor. Driving the limited 5 race schedule in Winston Cup during 1999 allows Dale Jr to maintain his rookie status for his first full year in Cup, the year 2000.
Dale Jr., the "Bud Man"...He will move to the NASCAR Winston Cup Series full time in the year 2000. His 1999 NWC schedule and the number of the car, which will be owned by Dale Earnhardt Inc., will be announced at a later date.
Budweiser is expected to conclude its association with Hendrick Motorsports, where it currently sponsor the No. 50 Chevrolet driven by Wally Dallenbach, at the conclusion of the 1999 season. A driver for the Budweiser Chevrolet for 1999 has not yet been announced.
"This is a great day for Anheuser-Busch and everyone involved in the Budweiser motorsports program," said August A. Busch IV, vice president of marketing, Anheuser-Busch, Inc. "Dale Jr. has distinguished himself in the NASCAR Busch Series and we believe he is poised to become the next star in NASCAR Winston Cup racing. "Anheuser-Busch has had an outstanding relationship with Dale Earnhardt and the Earnhardt family over the years, and we welcome Dale Jr. to the Budweiser team.
We're looking forward to a long, successful partnership."
In the 23-year-old Earnhardt Jr., Budweiser has teamed with one of NASCAR's most promising young drivers. In 26 races this year, his first full season on the NASCAR Busch Series, Dale Jr. has six wins, 13 top-five and 19 top-10 finishes. "This whole year has been like one big ride," Earnhardt Jr. said. "A year ago I never thought I would be driving a car prepared on this scale and sponsored by one of the most prestigious sponsors in the whole sport. I'm thankful Budweiser has enough confidence in me to get the job done, and I'm going to do my best to make everyone proud."
Budweiser's sponsorship of Earnhardt Jr. extends Anheuser-Busch's long relationship with seven-time NASCAR Winston Cup Series champion Dale Earnhardt and the Earnhardt family. The NASCAR Busch Series was born in 1982 -- it was originally called the NASCAR Budweiser Late Model Sportsman Series -- and the first race was won by Earnhardt.
In recent years, Earnhardt has served as a spokesman for Anheuser-Busch and been involved with a variety of promotions and advertising campaigns for the world's largest brewer. "It's an honor for all of us at Dale Earnhardt, Inc. to partner with Budweiser," Earnhardt said. "I've had a very close relationship with Anheuser-Busch for a number of years and it's an incredible company to be associated with.
"As a parent, you always want the best for your children and I feel like that's what we're doing here for Dale Jr. and his career. I have a lot to be proud of and Budweiser's support guarantees he'll be starting his Winston Cup career with the best of everything. That makes me happy as his father. "As a driver, it's one more of these young guns that I have to beat."
As part of his deal with Budweiser, Earnhardt Jr. will be featured in an extensive line of point-of-sale materials and licensed merchandise for the "King of Beers." He also will appear in a variety of advertising and promotional campaigns for Budweiser and the brand's status as the Official Beer of NASCAR. "Never in my wildest dreams did I imagine that I would be in a Winston Cup car so soon," Earnhardt Jr. said. "I appreciate everything my dad and Dale Earnhardt, Inc. have done for me to make this happen. That's a good motivator for me to go out and do the best I can. I want to show everyone they've made a good investment."(Nascar Online)(9-21-98)
Dale Earnhardt Jr... the son of one of stock car racing's biggest names, will make his official debut on the NASCAR Winston Cup Series next season with backing from the Anheuser-Busch's Budweiser beer brand. Officials of Dale Earnhardt Inc. (DEI), owned by seven-time Winston Cup champ Dale Earnhardt, will announce Monday afternoon that the younger Earnhardt will run five Winston Cup races in 1999 with Budweiser sponsorship.
Sources have told iRACE that the DEI-Budweiser combination is a prelude to a full-season Winston Cup run with Earnhardt Jr. in 2000, with a second full-time DEI team. Earnhardt Jr. is scheduled to compete in the post-season exhibition at Twin Ring Motegi in Japan in November. He and his father will drive Coca-Cola- sponsored Chevroelts in the non-points special event.
The younger Earnhardt's success earlier this season led to a number of offers from Winston Cup car owners such as Andy Petree and Felix Sabates, some reportedly as high as seven figures plus race winnings and bonuses, prompting DEI officials to quickly sign Earnhardt Jr. to a five-year contract.
The younger Earnhardt will also return to run a full Busch Series schedule next season in addition to his five-race Winston Cup effort, but sources told iRACE that the entire BGN team -- headed by long-time DEI crew chief Tony Eury Sr. -- will move with the younger Earnhardt when he steps up to a full-time Cup ride in the year 2000. Plans for continued participation in the Busch Series for the Earnhardt team are uncertain. Sources indicate that ACDelco officials would like to continue to be a full-time sponsor of an entry in the Busch Series.(IRace)(9-18-98)
Budweiser might move to DEI...Dale Earnhardt Inc. officials are expected to announce Monday that Budweiser will sponsor the car of Dale Earnhardt Jr. in five Winston Cup races next season, The Observer has learned. Earnhardt, who leads the points standings in the Grand National series, plans to run five Cup races as well as a full Grand National schedule next season. He will move to a full Winston Cup schedule in 2000. Two sources told The Observer on Thursday that Budweiser might move to DEI and become Earnhardt's sponsor in 2000 as well, though final details have not been worked out.(Charolette Observer)(9-18-98)
| Home | News | News Archives | Statistics | Race Schedules | Photo Gallerys |
| The Intimidator | Race Links | Awards | Web Rings | Book Store | Site Navigation |
| Contact Us/Guest Book |
NASCAR
Winston Cup Series
Related Stories

Little E - This Bud's for You

Dale Jr has Winston Cup Debut

Park makes splash of his own

Qualifying Results

Wednesday Practice 1

Qualifying Order

Dale Jr. ready for Winston Cup Debut



Going for a spin - Whirlwind life speeding faster for Dale Earnhardt Jr. this week



Son's Rise Surprises Earnhardt



Hype is Heavy



It's Junior's Time To Shine



Little E Knows Next Step Is Big One



Dale Earnhardt Jr. is NASCAR's . . . Rising Star / Expectations, pressure high for racing progeny

Earnhardt fans, check out That's Racin's new wallpapers

The Life and Times of the "Intimidator"