Starting Line up for Indy IROC Race 4
Dale Earnhardt on Race 4 at Indianapolis:
"We have had a big time in the IROC series this year," said Dale Earnhardt. "It isn't easy to win a race with 11 other champions racing against you. I've won all three this year, but it wasn't easy. In all the IROC races I've watched and have raced, I don't remember any closer finishes than what we've had in all three races this year."

"We're going to Indianapolis for the final race and it is going to be tough to win. Most of the drivers have raced at the Brickyard and half of them have been to the famous winner's circle and know what a special feeling that is. It has been a tremendous time for me and I think Dale Jr. too. The finish at Michigan will be a memory that I will cherish for a lifetime. To race against one another for an International Race of Champions victory just doesn't happen everyday. Now we're racing together at Indianapolis Motor Speedway, a landmark in motorsports history, that will be special."

"My attitude is, it is mine to lose. Mark has represented this series as its champion and I don't expect him to rollover and give it to me. He's a tough competitor, I think we've seen his determination in the past couple of weeks and the valiant effort he has given while injured. Mark has to win the race for any chance to clinch the championship and I have to finish something like eighth with no bonus points. If I can stay out of trouble and finish decent, I believe we'll have a good chance of winning the championship."
Starting Line Up
August 6, 1999 4:00 p.m. local time -- 100 Miles (40 laps)
Broadcast: ABC Sports (Next Day) Saturday, Aug. 7, 1999 4:30-5:30 p.m.
(Eastern Time)

ROW ONE:
1. No. 12. Eddie Cheever Jr. (Pep Boys Indy Racing League) 14 points
2. No. 11. Jeff Burton (NASCAR/Winston Cup Series) 18 points

ROW TWO:
3. No. 10. Dale Jarrett (NASCAR/Winston Cup Series) 21 points
4. No. 9. Adrian Fernandez (CART/FedEx Championship Series) 22 points

ROW THREE:
5. No. 8. *Greg Moore (CART/FedEx Championship Series) 22 points
6. No. 7. Dale Earnhardt Jr.(NASCAR/Busch Grand National Series) 25 points

ROW FOUR:
7. No. 6. Kenny Brack (Pep Boys Indy Racing League) 29 points
8. No. 5. Jeff Gordon (NASCAR/Winston Cup Series) 32 points

ROW FIVE:
9. No. 4. Bobby Labonte (NASCAR/Winston Cup Series) 39
10. No. 3. Rusty Wallace (NASCAR/Winston Cup Series) 40 points

ROW SIX:
11. No. 2. Mark Martin (NASCAR/Winston Cup), 48 points
12. No. 1. Dale Earnhardt (NASCAR/Winston Cup), 68 points

Note: Starting order determined by reverse of point standings.
Car numbers reflect driver's current position in IROC point standings.
* Tiebreaker: Higher finishing position in most recent event.

| Home | Winston Cup News | Busch Series News | Truck Series News | News Archives |
| Statistics | Race Schedules | Photo Gallerys | The Intimidator | Race Links | Awards |
| Web Rings | Book Store | Site Navigation | Contact Us/Guest Book |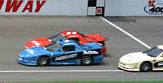 Dale Earnhardt and Dale Earnhardt Jr have the closest finish in IROC history at Michigan
Related Stories
Earnhardt prepared for IROC History and Record
Earnhardt Wins IROC Michigan (6/99)
Earnhardt Wins IROC Talledega (4/99)
Earnhardt Wins IROC Daytona (2/99)
The Life and Times of the "Intimidator"

Blk3GM's Dale Earnhardt Site was born on July 26, 1998 and is owned and maintained by Gary Harris. This site is a tribute to "NASCAR's Greatest Driver" and his up and coming son. We are not affiliated with any official Team, Sponsors, Media Group or NASCAR. This site is solely for entertainment purposes. Information and statistic's on this site have been collected from various NASCAR related sites on the internet, from Winston Cup Scene, Newspapers, Television and our personal experience at Winston Cup and Busch Grand National races. All statistics are believed to be accurate at the time they are updated but cannot be guaranteed.