Blk3GM

---
As you look around, make sure you click on the links to other pages. Just about anything that is underlined and highlighted will take you somewhere. Before you go please sign the guest book, and whatever you do come back often as we are always remodeling.
My daughter and I attend as many races as possible and ALWAYS, NO MATTER WHAT we support our favorite driver, the:

1980, 1986, 1987, 1990, 1991, 1993, 1994 (8th Championship coming soon!)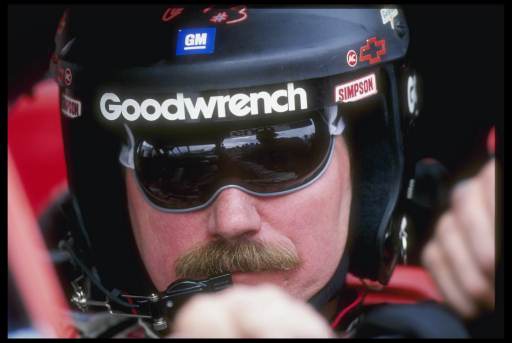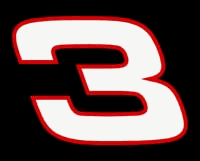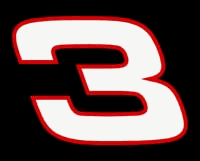 ---
The Pepsi 400 - Aug 16th
Brooklyn, MI
Mark Martin you were a class act today!
Congratulations on an outstanding performance and 4th place finish. We know it was tough for you to race today with your father being killed in a plane wreck just a little over a week ago, but
YOU RACED YOUR HEART OUT TODAY!
And we know Dad is proud of you
You gave us some of the best racing we have seen in a while! Mark is still 2nd in points year to date.
Mark's comments on the Pepsi 400.....(Nascar OnLine)
"We got the race we needed, but we didn't have the car to win the race unless it went green all the way," Martin said. "It just wasn't meant to be. We would have won the race if there wouldn't have been that caution (beginning on lap 179 and going to lap 184).
"I don't care if I ever win another race -- I wanted to win this one, though (Martin had dedicated the race to his father, his father's wife, and Martin's half-sister, who were killed in a plane crash last weekend). I wanted this one for them pretty bad, and I dedicate my fourth-place to them. We'll just move on and look to next week."



Congratulation to Bobby Labonte, 2nd and Dale Jarrett, 3rd, for some great racing. Jeff Burton had some tough luck with the last pit stop but made a great charge to finish 5th. Ernie Irvan, 6th, led the most laps. Congrats to King Richard Petty for the super 9th place finish by John Andretti in the 43 STP car.



Way to go Steve Parks, driving the #1 Pennzoil car, owned by Dale Earnhardt, Inc.! Started 21st and wound up with an 11th place finish. Just think what might of happened if he wouldn't have run out of gas early on in the race! That team is gettin' it together! Steve could still be in the hunt for the Rookie of the Year battle.



Ironhead started 37th and struggled with his car all day making 3 pit stops during two early caution periods. It really paid off in pit strategy allowing him to lead 3 laps of the race. Shucks! If we could of gotten a caution flag at the right time he could have been up front near the end. Earnhardt finished 18th.



YUK! Jeffy wins again. Puke!!! Yuk!!!!
With 20 laps to go he comes in for a two tire pit stop and with 8 laps to go passes Mark Martin for the lead and is 2 miles an hour faster than the rest of the field! That dog don't hunt! Not unless something funny is going on. I am tired of the Jeff show and I think the fans in the stands told the story when
Jeff got out of the car in victory lane....
BOOOOOOO!!!!!
Then for Jeff to express concern for Mark and the loss of his father was great BUT has anybody ever heard Jeffy one time publicly thank his parents or express gratitude to them? Nope! You would think that on a day like today when everybody was focused on the death of Mark Martins father that Jeff would have at least stopped for a moment to acknowledge his step-dad and mother who made tremendous sacrifices to enable Jeff to succeed! After all NASCAR is about Family!
No doubt the 24 team has it together but maybe the "gray areas" of the rule book that Ray's been working in need a closer look by NASCAR. "I want people to know that we don't cheat, we just take advantage of the gray area of the rule book -- and that's not really legal, but not really illegal, either.''--Ray Evernham
Even Dale Jarrett in a post race interview on MRN said "It was really fun racing Bobby and Mark,
but that 24 bunch .... seems to out smart us or SOMETHING every time."
"Everybody had Gordon beat," Todd Parrott, Dale Jarrett's crew chief, remarked, "and then they put the miracle tires on. That must be the same set they put on at Charlotte."
from Tony Johns article at SpeedWorld
When asked by commentators, "Where did you come from", Jeffy, himself said, "I don't know "(yeah, right). "I didn't deserve this". And Nascar OnLine quotes Jeff as saying, "But the car just seemed to run better. I don't know. You can call me Houdini today because there was something magic out there. It was a miracle. The car came to life for 17 laps. I just couldn't believe it."
Jeffy, you really expect us to believe you are Houdini!! YUK!! Maybe Ray is with the way he "fixes" the car!
And in the word of Jeff Burton after the conclusion of the race (RPM2nite):
"ahh, it's just ridiculous that he won that race."







Top 10 Finishing Order for the Pepsi 400:
Earnhardt moves up to 8th in the points standing! Keep it up Ironhead!
Don't ever count him out. We NEVER do!
Top 10 in Points Standing:


Next Winston Cup Race: Goody's Headache Powder 500 - Aug 22nd - Bristol, TN
7:30 p.m. EDT, ESPN (Live) - 7:15 p.m. EDT, MRN (Live)
Purse: $1,556,035
Distance: 266.5 miles, 500 laps on .533-mile banked paved speedway
1997 Pole Winner: (81) Kenny Wallace, Ford, 123.039
1998 Champion: Dale Jarrett (88), Ford Thunderbird, 500 laps, 80.010 mph, $101,500 (started 3rd)
Qualifying Record: Mark Martin 125.093 mph (15.339 sec) set August 25, 1995
Race record: Charlie Glotzbach, 101.074 mph set July 11, 1971 Laps: 500
Track length: 0.533 miles
Race length: 266.5 miles
Banking: 36 degrees
Hey we'll be there!!!! Yippeeee!!!







#3 GM Goodwrench Chevrolet: Driver, Dale Earnhardt - Team Owner, Richard Childress
#1 Pennzoil Chevrolet: Driver, Steve Parks Team Owner, Dale Earnhardt, Inc.
Earnhardt's 1998 Year to Date Statistics
---

The Pepsi 200 - Aug 15th
Brooklyn, MI
Jr gets another top 5 finish!
Way to go Dale Jr! He finished 5th and is still in the lead by 38 points for the Championship Battle with only 9 races left in the season. Go get that Championship!
Jeff Burton (a Winston Cup regular) wins the Pepsi 200. Jeff we really appreciated your kind words about Mark Martin and the death of his Father, step Mother, and step Sister after winning today. Mark Martin finished 6th and had a great run. Look for him to be tough tomorrow in the Winston Cup race. This race was a record for the Busch Grand National Division as the race was completed with no caution flags and all 43 cars that entered the race, finished the race.
The Dominator, is definitely a chip-off-the-Intimidator-block!
Top 10 Finishing Order for the Pepsi 200:
Next Busch Race: Food City 200 - Bristol, TN - Aug 21st - ESPN 7:30pm EDT
Hey we'll be there too!!!
Earnhardt Jr. is 1st in the Busch Series Points Standing
There's a new Dominator in Town!
(Son of the Intimidator)
#3 ACDelco Busch Chevrolet: Driver, Dale Earnhardt Jr. Team Owner, Dale Earnhardt, Inc.
Earnhardt Jr's 1998 Year to Date Statistics
---

The Lund Look 275K
Heartland Park Topeka
Q U A L I F Y I N G & R A C E S C H E D U L E
Bud Pole Qualifying: Saturday, Aug. 22 at 1:15 p.m. EDT
Bud Second-Round Qualifying: Sunday, Aug. 23 at 10:30 a.m. EDT
Lund Look 275K: Sunday, Aug. 23 at 2 p.m. EDT on TNN and NTN



Federated Auto Parts 250 - Saturday, Aug 15, 1998
Congratulations to Jimmy Hensley, driver of the #43 Cummins Dodge owned by Richard Petty, on his victory after starting 30th. Ron Hornaday, driver of the #16 NAPA Chevy owned by Dale Earnhardt, Inc., finished 7th maintaining his lead in the Championship points battle. Only 10 races left. Come on, keep it up Ron, you can do it!



Top Ten in Points Standing:


Ron Hornaday & #16 NAPA Chevrolet Truck - Team Owner: Dale Earnhardt, Inc.
---
DALE EARNHARDT wins the DAYTONA 500, February 15, 1998.
We were there and it was GREAT!
---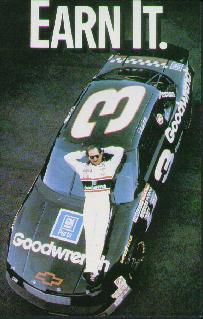 HE'S EARNED IT !
7 Winston Cup Titles (tying Richard Petty for the record)

71 Career Winston Cup Wins (6th on the all time win list)

Career Money Winning Leader over $32,000,000 (not including endorsements)

Currently 2nd for All Time Consecutive Starts

Number 1 in Souvenir Sales

Winston Select Winner 1987, 90, 93

6 time Winner of the Busch Clash 1980, 86, 88, 91, 93, 95

11 Wins in the Daytona 125 mile Qualifying Race 1983, 86, 90, 91, 92, 93, 94, 95, 96, 97, 98

2 Time Winner of the IROC Series Title 1990 and 1995

American Driver of the Year 1987 and 1994

In 1998 He has been voted by fans as:
"NASCAR's Greatest Driver"
"Earn It" photo courtesy of the Wizards
---
Click here to go to Blk3GM's Links Page.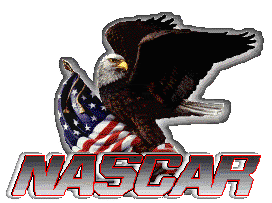 These are some of my favorite (mostly Racing) sites on the internet!
Click here to find out Just a little About Us.

---
Send us E-Mail >

Thanks for stopping by. Please take time to sign our Guest Book.
[ Sign my GuestBook ] [ Read my GuestBook ]
This page is still under construction. Please check back for updates.
| Home | Earnhardt Stats | Earnhardt Jr Stats | Links | About us | Sign Guestbook | View Guestbook |
---
---
This site was born on July 26, 1998 and is owned by Gary Harris. This site is a tribute to "Nascar's Greatest Driver" and his up and coming son. We are not affiliated with any official Team, Sponsors, Media Group or Nascar. This site is solely for entertainment purposes. Information and statics on this site have been collected from various Nascar related sites on the internet, from Winston Cup Scene, Newspapers, Television and our personal experience at Winston Cup and Busch Grand National races. All statistics are believed to be accurate at the time they are updated but cannot be guaranteed.
---