This page highlights some of the races
we have been to in 1998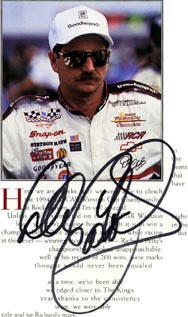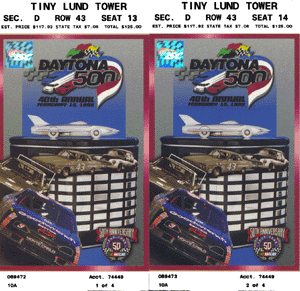 Dale signed this for me in 1995 at
Blackwell Chevrolet in Jackson, MS.
This is a page in my 1994 Winston Cup
Year Book.
Dale won his 7th Championship in 1994.
These were our tickets for the Daytona 500, February 15, 1998.
Dale Earnhardt won the Daytona 500! We sat in the same seats
for the Busch race, Saturday, February 14th when Dale Jr flipped
upside down going down the backstretch.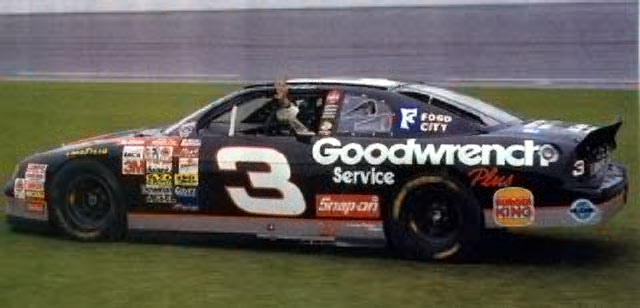 Sweet Victory!

February 1998 was the first time we have ever been to a race at the Daytona International Speedway and it is something we will never forget. Daytona has the history as well as some of the fastest racing on the circuit. Of course this year being the 40th anniversary of the Daytona 500, being celebrated during the 50th year of NASCAR, it was especially great for us as Dale Earnhardt fans to see him win the Daytona 500 this year!

We visited Daytona USA which now houses the Black 3 GM Goodwrench Car that Dale Earnhardt drove to victory lane on February 15, 1998.
DALE EARNHARDT wins the DAYTONA 500, February 15, 1998.
We were there and it was GREAT!
Talladega Super Speedway - April 26, 1998

I have been going to Talladega for over 10 years, usually to both races in the Spring and now the Fall. We used to attended the July race before it was moved to October and Talladega in July is true to its nick name "Little Hell". It was so hot during the July races that the actual temperature would reach 120 degrees and the track temperature would be over 200 degrees.
This year at the DieHard 500 in April, we really believe that Dale would have won the race if it wouldn't have been for the 200 mph tap by Ward Burton that sent Dale Earnhardt upside down and on top of Bill Elliot's car and took them both out of the race. We were sitting right where they hit the wall and our hearts instantly stopped beating and did not start again until we saw Dale and Bill climb out of their cars. We had fluid, dirt, grit and smoke all over us from that wreck. We are standing right where the 94 car is against the wall in the picture below.
Thank God, both Dale Earnhardt and Bill Elliott were not seriously injured.
Talladega is my favorite track as it is wide open racin'. We really don't like the restrictor plates that were put into affect after Bobby Allison's wreck in the late 80's at Talladega. We would prefer to see NASCAR do away with the restrictor plates and in the words of Dale Earnhardt, "move the fans back and let us race".
Bristol Motor Speedway - August 21 & 22, 1998
Mark Martin Wins!!
Congratulations Mark for an outstanding performance at Bristol! Again you were a class act and your comments at the conclusion of the race proved it:
"I want to thank the race fans," a weary Martin said after the long, hot race had ended. "Their sympathy and support and love, and love for this sport and love for our family has meant everything. I cried last week because I didn't get to dedicate a win to my dad and Shelley and Sarah. This one's for them and he would be proud of this one tonight." (Nascar Online)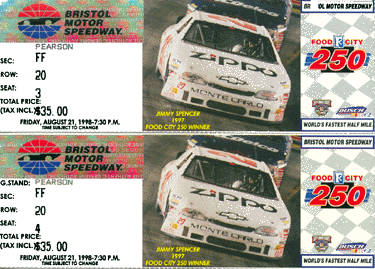 Bristol is one of the most exciting race tracks we have ever been to. We attend mostly Super Speedways and love the thrill of speed and the feel of 43 cars pumping out over 700 horsepower each come flying by you. It is an awesome feeling as the ground shakes and you can feel the thunder of men and machine bumper to bumper at 200 mph. But Bristol is unique in that it is only a .533 mile track and you can see everything, feel everything and can hear nothing for the sound of thunder that is generated from these muscle cars! Bristol is non-stop action and you really get to see that good ole fashion "rubbin' is racin', son" type of race. There is not a bad seat in the whole place and if you ever get the opportunity to go, DO IT!
It was exciting to watch Dale, who started 30th and had to pit on the back stretch, work his was up through the pack. A little rubbin', a little nudgin', but hey, that's racing at Bristol! Great pit strategy and Ironhead's driving ability took him to the front for 34 laps and gave him a solid 6th place finish
We had such a good time at Bristol that we are making the August night race one of our annual races to attend. It is a great place to watch them mix it up and see some good ole fashion "rubbin' is racin' son" type racing. We stayed in Boone, NC. It seems like a pretty far distance from the track, but it really worked out good cause not to many people went that direction so we didn't have traffic to contend with. But if you ever get to Boone, NC you just gotta stop in at the Mountain House Restaurant and see "Hot Momma". Really her name is Betty Austin. She'll abuse you a little bit but she's got some great food. She might even make you get up and refill your own Coke glass! Her son, Chris Austin was a song writer and musician and has written several songs for Country Music artists. Unfortunately, he was killed several years ago while traveling as part of Reba McEntire's band! Hey Betty you've got a great place and we'll be back!
Mountain House Restaurant-Log Village-Blowing Rock Rd.-Boone, NC
Check out our Bristol Photo Gallery
Talladega - Oct 11, 1998

Talladega - White Knuckle Weekend - Wrecks Again
The "No Bull" Five winner is Dale Jarrett
The Million Dollar Man
As, almost inevitable, wrecks determined the outcome of what not only may be the Championship Point battle, but the final results of the Winston 500 as well. In what has become know as "the big one" at restrictor plate races, this weeks "big one" occurred in turn one on lap 136, in front of the leaders. Ernie Irvan, just lapped, was clipped by Sterling Marlin and sent to the outside wall; he rocketed back to the middle of the track where he took a punishing lick from Dick Trickle, then Martin. Also collected in a cloud of smoke were Earnhardt, Kevin Lepage, Sterling Marlin, Wally Dallenbach, Ward Burton and Michael Waltrip.
It took rescuers more than ten minutes to cut Irvan from his badly crumpled car; possibly a precaution after Irvan's near-death wreck four years ago at Michigan. He was reported conscious and talking as he was put directly into a helicopter and lifted to Birmingham for a more thorough examination.
Earnhardt's car was wounded, but not out. His pit crew worked feverishly to repair the damage to the GM Goodwrench Chevrolet pitting no less than five times during the caution period and still remained on the lead lap. Driving with either determination and/or anger, the seven-time champion stayed on the lead lap and moved from 13th to 6th in just one green lap. He put the familiar black car within one second of the lead by lap 153, thanks to a team that quickly-patched the front and rear damage. The impressive attitude would not prevail over the damage however, and Earnhardt retired his car with 13 laps left to go due to broken rear end parts, finishing 32nd.
Earnhardt again voiced his disapproval of NASCAR's "restrictor plate" rule. "It's just not racin' ".
Martin's words and facial expression after the accident were both harsh and sad. Martin not only saw his championship dreams evaporating, he was unable to be competitive in the remainder of the race.
"If we did more than four of these (restrictor plate races) a year, I'd find something else to do," he said. "This isn't racing for me. A wreck at Charlotte you say 'that's racing,' but a driver can't use his skills here to stay out of an accident.
"I said (before the race) if we walked away okay from this race, it would be a good day," said Martin, who re-entered the race more than 20 laps off the pace. "I guess I should be thankful that we could walk away. I am thankful for that part."
Advertisers love it, TV coverage loves it, NASCAR loves it because advertisers and TV does, BUT is it really in the best interest of the drivers who the fans love and support? .......Restrictor Plate Racing? Is it racing or just another way for NASCAR to generate the advertising dollars? Our opinion is, put the racing back in the hands of the drivers!
CONGRATULATIONS DAVE MARCIS - 12th PLACE FINISH!
Top-Ten finishing order for the Winston 500:

We love Talladega but really wish the restrictor plates would get tossed out the window. The "Inevitable Big One" is getting old. This is twice this year that we have seen serious big wrecks at Talladega because the cars are bunched up together so close due to the restrictor plates, which reduce the cars power and drivers ability to break free of the pack. Earnhardt alone lost two cars, one in each race. That doesn't count the other 24 or 25 cars that were collected in both of the Talladega restrictor plate races this year. That is a pretty expensive price to pay for the networks to be able to get all 43 cars in one picture frame on your TV screen. Thank God no one was permanently injured.
We have yet to attend this year Atlanta in November.

EVERYTHING ELSE IS JUST A GAME!
Return to Photo Gallery Main Page

| Home | The Intimidator |
| Contact Us/Guest Book |