Kerry Earnhardt gets another chance
August 11, 1999 from NASCAR Online

BRISTOL, Tenn. - Kerry Earnhardt, the eldest son of seven-time NASCAR Winston Cup Series driving champion Dale Earnhardt, is about to get his own Busch Grand National Series driving career jump started thanks to Ed Whitaker and Team Marines Racing.

Businessman Rick Rathbun, 45, has announced his intention to sponsor the Kerry Earnhardt/Ed Whitaker Racing tandem under his own Team Marines Racing banner in the Aug. 27 running of the Food City 250 BGN event at Bristol Motor Speedway. Rathbun, a former Marine, is President of DEC Technologies, Inc., an aerospace industry parts and components manufacturer based in Piney Flats, Tenn. -- just a few miles southwest of the Bristol track.

Veteran car owner Whitaker, whose race shop is located in nearby Bristol, Va., and who calls Bristol Motor Speedway his "home track," is taking it upon himself to breathe new life into Kerry Earnhardt's career that came to an abrupt halt after just four races this year.

Unlike his younger brother, Dale Earnhardt Jr., who captured the NASCAR Busch Series Grand National Division title last season in spectacular fashion, and is close to repeating that effort this year, Kerry Earnhardt has a lot to prove to the racing world as well as to himself.

"A lot of people have written me off, but I know I can get the job done if given the right circumstances," stated Kerry, who boasts several years of driving experience in NASCAR's Late Model Stock and Goody's Dash Divisions.

Driving the No. 40 Channellock Chevrolet at the start of this season for what was Doug Taylor Racing, Kerry had his first chance to race for an experienced NASCAR Busch Series race team that had a solid track record. All of that changed shortly before Earnhardt's 1999 season debut in Daytona in February, however, when Taylor sold the team.

"I put that deal (the ride with Taylor) together myself," Earnhardt said. "My daddy didn't know anything about it until after it was completed, and it really looked like a great opportunity for me. We had some great tests in the Channellock car, and I really felt that we were going to get off on the right foot, but when the ownership changed (the sale of the team to Tennessee newspaper magnet Darwin Oordt), things just started going downhill. It was pretty evident after a while that they were looking for a new driver."

Earnhardt qualified for just four races with the Channellock team, recording a season-best 20th place finish in the NAPA 300 in Daytona. In all, Kerry has started just seven races in his truly brief Busch Series career that began with a 3-race stint in a Doug Taylor car at the tail end of the 1998 campaign.

"I'm truly excited about this opportunity to race for Ed Whitaker and a really different and exciting sponsorship," the 29-year-old Earnhardt said. "I've had a rough go so far in my Busch Grand National career, but the truth of the matter is that I haven't really had a lot of time in a Busch car to prove myself.

"I honestly feel that I now have the best chance I have ever had to learn how to drive these cars. I'll have the experience of Ed Whitaker and his team, good equipment, and the support of Mr. Rathbun and Team Marines Racing to show what I can do. And I know that my dad and brother will offer their help and advice. I'm hoping that I can do a good job for everyone involved in this project so that this can develop into a full time thing."

Whitaker has been a fixture in the NASCAR Busch Grand National Series since the Series' debut season in 1982 and remains the winningest active owner in Series history. Such Busch Series greats as Harry Gant, Sam Ard, Morgan Shepherd and the late Butch Lindley have driven for Whitaker over the years with Gant the most successful of the lot with 21 victories, 51 top-5 and 71 top-10 performances in just 124 starts from 1988 through 1994.

Whitaker remains convinced that with the right help, Kerry Earnhardt can rightfully follow in the tire tracks of these legends as well as his late great grandfather (Ralph Earnhardt), his father and younger brother.

"We've got a brand new race car and engine ready for Kerry for Bristol, and we'll do whatever it takes to make this a successful experience for everyone," Whitaker stated.

| Home | Winston Cup News | Busch Series News | Truck Series News | News Archives |
| Statistics | Race Schedules | Photo Gallerys | The Intimidator | Race Links | Awards |
| Web Rings | Book Store | Site Navigation | Contact Us/Guest Book |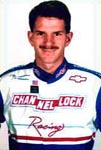 Kerry Earnhardt

Related Stories

Blk3GM's Dale Earnhardt Site was born on July 26, 1998 and is owned and maintained by Gary Harris. This site is a tribute to "NASCAR's Greatest Driver" and his up and coming son. We are not affiliated with any official Team, Sponsors, Media Group or NASCAR. This site is solely for entertainment purposes. Information and statistic's on this site have been collected from various NASCAR related sites on the internet, from Winston Cup Scene, Newspapers, Television and our personal experience at Winston Cup and Busch Grand National races. All statistics are believed to be accurate at the time they are updated but cannot be guaranteed.